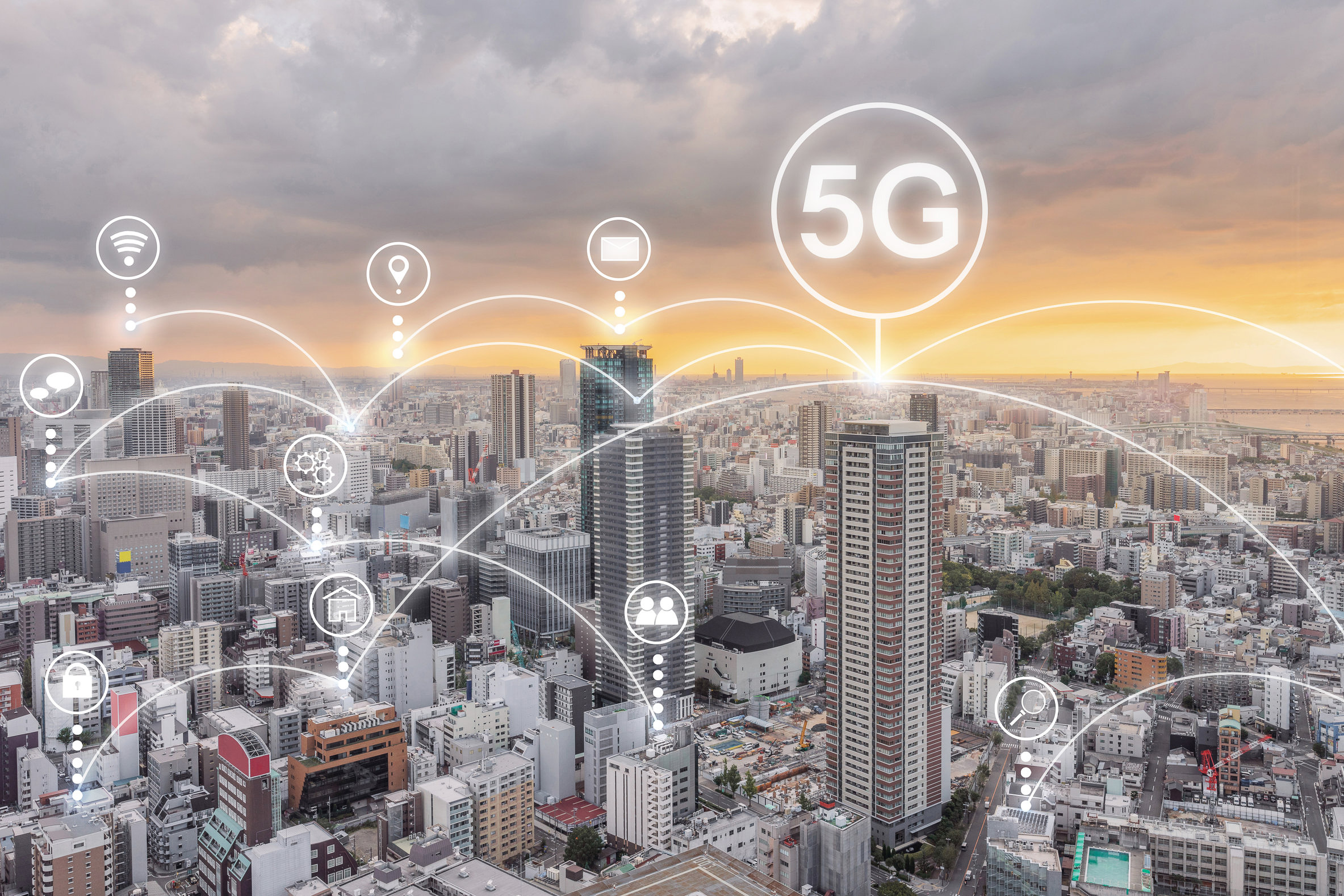 by Melissa Dittmann Tracey, REALTOR Magazine®
Key Takeaways:
Wireless carriers affirm their commitment to rolling out the superfast fifth generation of connectivity to more places, beyond city hubs, by the end of the year.
5G could be up to 600 times faster than current 4G connections, paving the way for innovations affecting businesses, driving, health care, and daily routines.
5G is expected to have widespread impact on real estate, including expanded connectivity for smart home devices, better augmented reality in home tours, and potential new revenue streams for commercial buildings.
---
We hear a lot these days about 5G—so named because it's the fifth generation of cellular technology. The explosion of new connected gadgets and the torrents of streaming video demand a major step up in bandwidth and speed. Wide availability of 5G will mean an end to spotty cellular service in crowded areas, and it will foster seamless connectivity for devices from smart toothbrushes to self-driving cars.
In real estate, 5G paves the way for more and higher-tech home tours delivered using augmented reality, smarter smart homes, and better-connected remote offices. Awkward time lags and other disruptions during video calls should disappear.
The goal of 5G is to bring speeds of about 10 gigabits per second to your phone, up to more than 600 times faster than today's typical 4G speeds, according to Wired magazine. The technology will minimize delays in data transfers, so you can see who's at the door when you access the video view from a smart doorbell. Because the exchange of information is instant, you'll be able to send and view ultrasharp 4K, 360-degree property tours from your phone. With 4G technology, it takes an average of 8.6 minutes to download a 3 gigabyte DVD-quality movie—using 5G, it takes as little as 2.6 seconds.
But when will all this happen? T-Mobile, a REALTOR Benefits® partner, announced after its 2020 merger with Sprint that it's rolling out the largest 5G network in the country. So far, T-Mobile leads among wireless carriers with its lower-band version of 5G. Lower-band 5G is the slowest form, sacrificing some speed for a wider signal. T-Mobile's implementation is slightly faster than 4G technology and has wider coverage than that of other carriers, which are developing faster frequencies of 5G that require more infrastructure to deploy. T-Mobile's coverage area currently reaches more than 270 million people. In January at the virtual CES 2021 show, wireless carriers shared their commitment to bringing higher-band 5G to areas outside of major city hubs by the end of the year. The pandemic has accelerated the push as technology reliance grows for work, school, and health care.
But don't expect 5G to be just another "G," said Anne Chow, CEO of AT&T Business, during a CES 2021 session. "There's a misperception that it's just more speed, more fancy devices," she said. "But 5G is really the enabler of the next generation of connectivity coupled with device innovation. It will infuse every facet of our lives. Every industry will be able to innovate with 5G."
How 5G Could Change Real Estate
As faster connections arrive, the impact on real estate may be widespread. Here are some of its potential applications and benefits.
Smarter homes and buildings. 5G will allow more devices, such as home thermostats, security monitors, and lightbulbs, to be connected for concurrent monitoring. It will remove latency or overload issues common with 4G or Wi-Fi networks as more devices are added in a home. In the commercial sector, property owners may find 5G allows for instant monitoring of mechanical and electrical systems in their buildings, enabling quicker responses when problems occur.
Glitch-free remote offices. In real estate, you're often managing multiple details in transactions while on the go. More programs and documents are being moved from onsite company servers to the cloud. Long lags in accessing documents and programs from the cloud are still common with 4G, but 5G could eliminate that, says Dan Weisman, director of emerging technology at the National Association of REALTORS®.
Aye Aye, AI. 5G likely will lead to new time-saving tools reliant on artificial intelligence, including software that can automatically recognize features in a home from photographs and enter them into MLS descriptions for you.
Better augmented reality. With nearly all real estate shopping starting online, augmented reality could take off as a more immersive way to view homes, including superimposing images and text onto a real-world space. Buyers could swap out furnishings and design features in 3D as they view homes using a headset or smartphone. For example, RealAR, an Australian- based augmented reality startup, offers an app that can turn floor plans into 3D homes so that buyers can see spaces virtually. With faster connections and more bandwidth, 5G could spur innovation around augmented reality, says Dan Swan, CEO of RealAR.
Flexibility to live, and work, anywhere. With 5G, rural areas can become as connected as big cities are, allowing people to move farther out while still having instant remote access to their jobs and health care via telehealth, Weisman says. 5G also is crucial to the arrival of more autonomous vehicles. Wide acceptance of self-driving cars could influence home searches by allowing people who do commute to offices to perform other tasks while the car drives them to work, Weisman says. 5G is considered a must for wider deployment of autonomous vehicles because it will allow cars to wirelessly communicate instantaneously with one another and share data on road conditions for vehicle and passenger safety. The first iteration is likely to be implemented by ride-hailing or rental car companies to serve as "robotaxis," rather than by individual consumers.
New revenue streams. 5G requires more antennas and boosters because its signals travel shorter distances than those of 4G networks. As a result, commercial real estate investors may unlock new revenue streams by leasing rooftops, particularly in large cities. National and regional telecom carriers are looking to place transmitters on rooftops over more blocks to broaden 5G service delivery, says Julio Gonzalez, CEO of Engineered Tax Services Inc., a firm that helps set up these lease agreements. The monthly rent per rooftop and carrier could range from $2,500 to $20,000 based on the population in the area; most of these leases come with annual escalations of 2% to 4%, Gonzalez adds. The leases may span from 10 to 30 years, creating a steady revenue stream for commercial buildings.
As 5G rolls out, however, some of its infrastructure needs are receiving pushback. Earlier this year, homeowners in a Houston suburb voiced their concerns over Verizon installing freezer-sized boxes in front of yards as part of its 5G expansion. People complained that the utility boxes hurt their property values. But wireless companies are under no obligation to get permission from homeowners because these ground fixtures are installed on public thoroughfares. Four years ago, Texas lawmakers passed legislation that streamlined the permitting process, and that has made it easier for companies to place 5G boxes on public property with little input from the city. Complaints from homeowners may increase across the state—and in other states—as 5G networks expand in residential neighborhoods.
The development of the infrastructure along with the technology itself is bringing challenges along with opportunities that will need to be sorted out by companies and communities as 5G makes bigger strides. The momentum behind this new era in connectivity keeps building.
"5G could give us the ability to change how we live and how we work," Weisman says. "It's become crucial to stay connected, and that need is only going to grow bigger."
Wait, Don't I Already Have 5G?
You may have the device but not yet the speed. About 35.2 million 5G smartphones were shipped in 2020 in the U.S., according to IDC, a tech intelligence firm. But the highest 5G speeds are not available fully yet, even on those devices. At CES 2021, Alejandro Holcman, senior vice president of engineering at Qualcomm Technologies Inc., likened the use of 5G smartphones on current 4G networks to driving a Ferrari in rush hour traffic. "You can still do it, but you need 5G to take advantage of the full capabilities of the devices," he said, adding that is still to come.
U.S. carriers are now working on three levels of 5G: low-band, which is about 20% faster than 4G and currently the most common; millimeter-wave 5G, offering the fastest 5G speeds, but with signals that don't travel far; and mid-band, which is faster than low-band 5G but more available than millimeter-wave technology. The eventual goal: widespread connectivity via rocket-fast ultrawide millimeter-wave frequencies.
---
— Reprinted from REALTOR® Magazine Online, July 2021, with permission of the National Association of REALTORS®. Copyright 2021. All rights reserved.