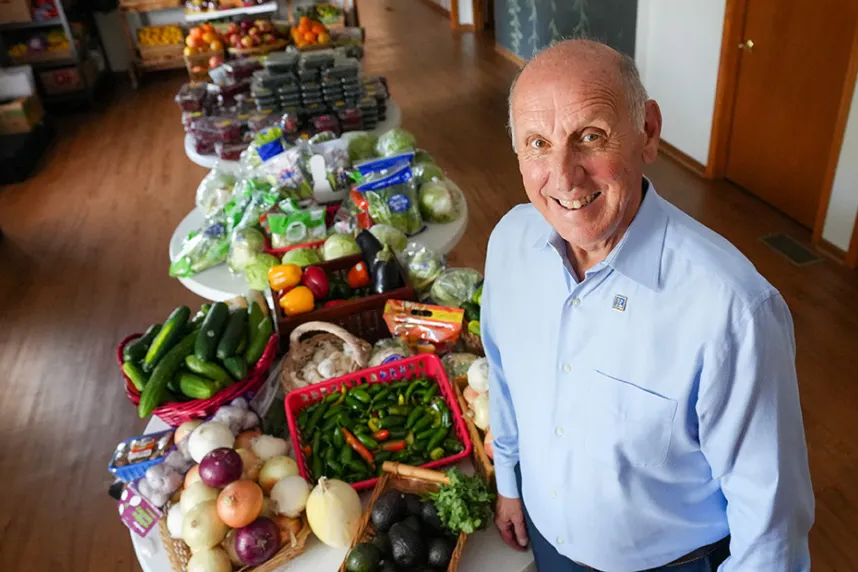 By Graham Wood, National Association of REALTORS®
Cleaning houses for a living isn't always steady work for Kansas City, Mo., native Kelly Lange. When her clients need to tighten their budgets, Lange's services are often the first item they cut. So, Lange, 48, sometimes finds herself with little to no work for significant periods of time, a problem that was exacerbated by the pandemic. She occasionally must seek help to make ends meet for her family of four, including her husband and two adult children living at home.
Lange finds her lifeline at Mimi's Pantry, founded by REALTOR® Dennis Curtin. Set up like a neighborhood grocery store, the innovative pantry, which includes a library and a play area for kids, offers what Curtin calls a dignified experience to those who are facing food insecurity and ashamed to ask for help. Instead of standing in breadlines for boxes of canned goods that may not satisfy their families—a difficult experience for people already facing a low point in their lives—visitors to Mimi's can choose items they actually enjoy in an environment that reinforces a sense of providing for oneself. "When people are shopping, they don't feel like they're getting a handout," says Curtin, broker-owner of RE/MAX Regional Services in Kansas City.
Recreating the Food-Shopping Experience
The pantry's 50 volunteers act as personal shoppers, helping visitors assemble a grocery list that meets their family's needs. Mimi's has a wide variety of goods, including fresh produce, meat, dairy, bread and even specialty products for people with food allergies. A brand-new greenhouse and a fruit orchard will allow Mimi's to grow its own food and elevate the visitor experience.
Curtin partners with major grocers like Walmart, Hy-Vee and Sam's Club to take and reuse their overflow inventory. The partnerships help sustain the pantry's operations, so Mimi's doesn't have to rely on unpredictable individual donations, Curtin says. Still, it's not that the pantry doesn't raise money: Curtin has secured $1 million in donations, earmarked for maintaining and improving the property, since the inception of Mimi's more than three years ago.
"I couldn't believe how much stuff they had and were willing to give you," Lange says of her first visit to Mimi's, shortly after it opened in June 2019. "It's not just boring foods, and [Mimi's has] a lot of fun things for kids and families." She came home from that first trip with six grocery bags full of nutritious food. Though she doesn't have as great a need for the pantry's services today, Lange still goes there for staples like milk and butter, as well as camaraderie with the volunteers. (Mimi's also has two part-time employees.) "It feels like a little community of close-knit people," she adds. "They care for you, and it shows."
Mimi's serves Missouri's Platte and Clay counties, where one in eight of the 360,000 residents goes hungry, says Kelley Catterson, Curtin's daughter and the pantry's executive director. Curtin estimates that one-third of the people who rely on Mimi's for support are retirees struggling to live on Social Security; another third are single parents; and another third are people across the board dealing with financial hardship. "There's a misnomer that people who go to pantries are scammers," he says. During the pandemic when people were receiving government assistance, "our numbers actually went down, proving that when people have money, they don't want to go to a pantry."
Mimi's Philosophy
Mimi's Pantry is an homage to Curtin's mother, Lillian, whose grandchildren nicknamed her "Mimi." She owned a deli when Curtin was growing up and would waive the bill for customers who couldn't afford to pay, he recalls. Curtin remembers her philosophy about giving back: "Don't talk about it. Just do it." Equally influential on Curtin was his job as a grocery store stocker in college, where he saw a high level of excess-food waste. This would later inform his mission to solve food insecurity. "Food inventory isn't the problem—it's distribution," he says.
Several years ago, Curtin, who works with builders in his real estate business, purchased a brand-new 6,000-square-foot building as an investment property. He considered renting it out to a church or business before deciding it was the perfect place to launch Mimi's Pantry. Curtin traveled around the country to different food pantries to learn their processes as he developed his own plan. He decided to invest in walk-in refrigerators and freezers for on-site food storage.
Widespread Impact
Having a well-equipped building has helped Mimi's serve more than 50,000 people since its inception, including 715 families in July of this year alone. Shopping times are by appointment only to provide a level of discretion and honorability for visitors, a cornerstone of her father's vision, Catterson says. "We decided we weren't going to have a lot of rules for people to access the pantry—just an ID to show they live in the area. My dad wanted it to be easy for people to come here."
Most importantly, she adds, Mimi's is a welcoming, nonjudgmental safe haven where people who are struggling can be assured empathy. In a volunteer-only area of the pantry hangs a plaque that reads "Be gentle, not judgmental." "We're like a big family of people helping people," Catterson says.
Curtin is now in the construction phase of creating a second Mimi's Pantry location that will focus on services for kids, including free tutoring, books, clothes, backpacks and school supplies. "Kids can be stigmatized, too," Curtin says. "The most important thing to a young kid on the first day of school is a new pair of sneakers. If you come in with a ratty pair of shoes, you can be ostracized by other kids."
Curtin says his greatest achievement is enabling Mimi's volunteers to take a greater role in deciding how the organization runs in the long term. A line of succession is developing for when he eventually decides to step down as the leader. "I'm not really needed anymore," he says. "The real motivation for me is to turn Mimi's Pantry into a community asset."