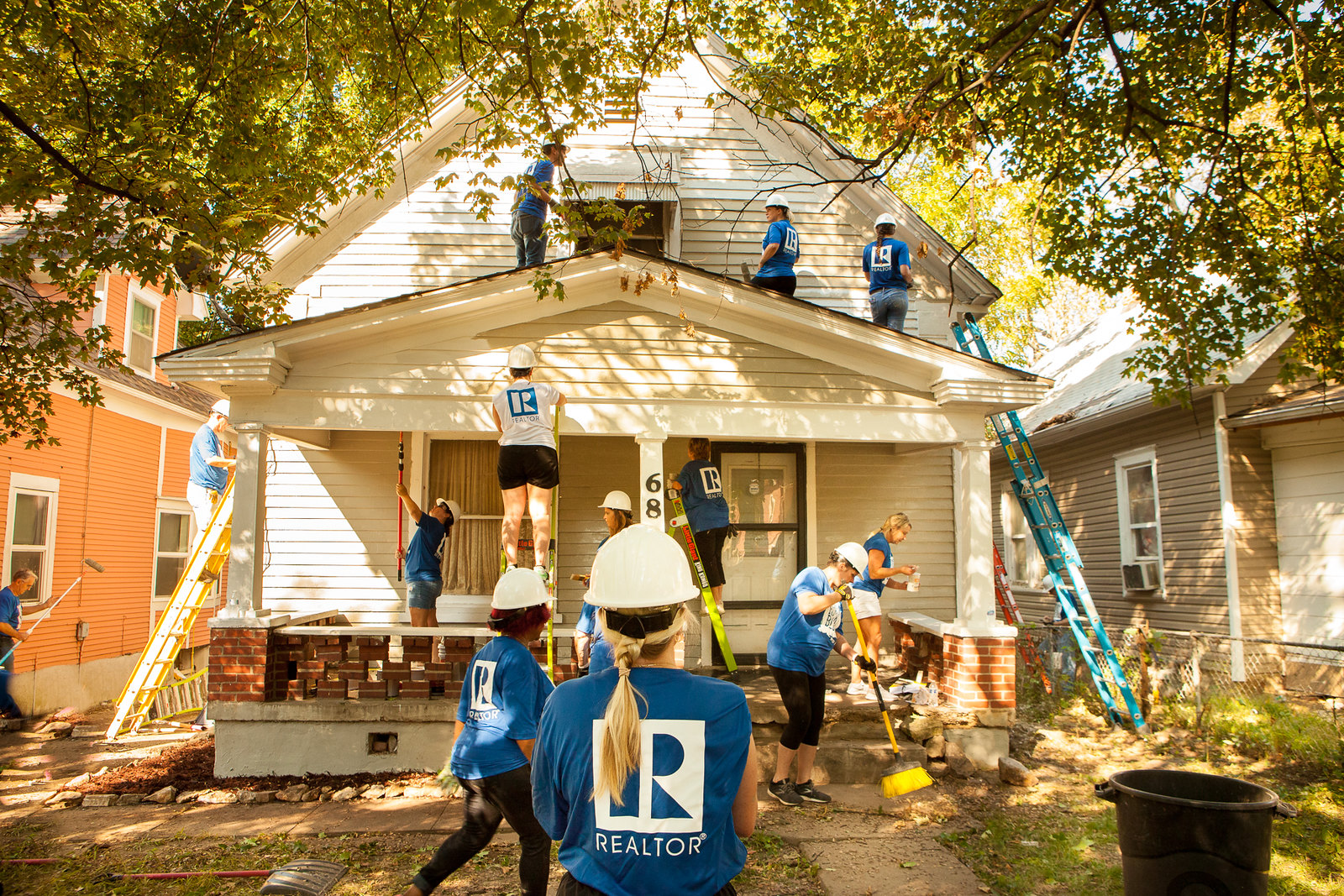 Each year during Fair Housing Month, REALTORS® can be reminded of their ongoing duty to combat racism and discrimination to bring the community closer to fair and equitable housing for all. This is a goal that Habitat for Humanity of Kansas City shares, which is why KCRAR has an ongoing partnership with Habitat KC to help whenever possible. Through this connection, KCRAR members have opportunities to volunteer and contribute to Habitat KC's mission to "bring people together to build homes, communities and hope."
Shop and Donate at Habitat for Humanity of Kansas City's ReStores
Habitat KC has ReStore locations around the region, where people can donate gently used household items, such as furniture, décor, building materials and more. All the money raised through ReStore sales goes toward Habitat KC's mission. This can be an opportunity for REALTORS® who know of a client or connection going through a remodel to suggest donating the used building materials they may be replacing.
Bid on an Upcycle Project
Bidding opened this week for KCRAR's second Upcycle Challenge online auction. Nine teams of KCRAR members from across the region selected items from the Martin City ReStore to flip into something new or improved. This year's items range from a dining room set to a coffee bar to a kids' play kitchen and more. The money raised at auction not only helps determine the winning team, but 100% of the proceeds go directly to Habitat for Humanity of Kansas City.
Shred Files at KCRAR's Shred Day
This year's Shred Day will be on April 30. Each box of shred or eCycle material will be a $5 donation to Habitat for Humanity of Kansas City, and all the paper shredded is recycled. This is a simple way REALTORS® can safely dispose of their unneeded files and electronics, help the environment and give back to Habitat KC.
Volunteer at REALTORS® Rock the Block
Each Fall, KCRAR partners with Habitat KC for the annual REALTORS® Rock the Block event, where hundreds of REALTORS® from around the region gather in a neighborhood to help homeowners with various needs from painting to yard work and more. Due to the pandemic, last year's event was canceled, so KCRAR and Habitat KC created a different plan for this year that keeps distancing in mind. This year, REALTORS® Rock the Block will be a multi-day event from Sept. 21-24 in the Lykins neighborhood. Spreading the work across multiple days will allow many REALTORS® and Industry Partners to participate without having to gather in a large group.
Join KCRAR's Mailing List for Habitat KC Volunteer Opportunities
Last year, KCRAR participated in a Habitat KC Pride Build for the first time. Smaller volunteer opportunities with Habitat KC such as that one may pop up from time to time, which is why KCRAR has a mailing list specifically to keep interested volunteers in the loop. KCRAR members can join this volunteer mailing list here.
Donate to Habitat for Humanity of Kansas City
Though comfort levels may vary when it comes to volunteering in-person during the pandemic, Habitat for Humanity of Kansas City is always accepting monetary donations to "help families in Kansas City, and the surrounding counties, build strength, stability and self-reliance through shelter."