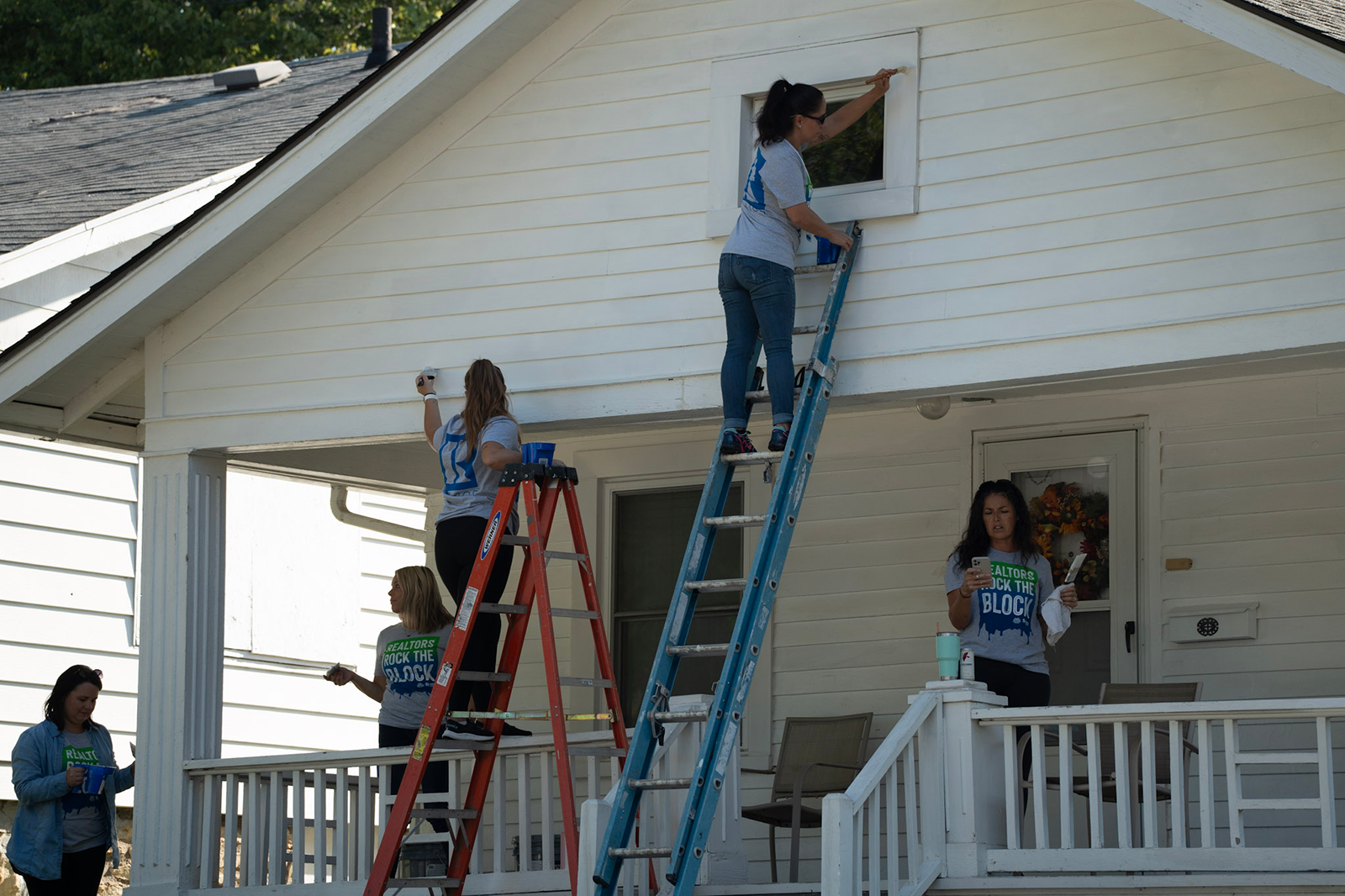 Nearly 100 REALTORS® gathered in the Oak Park neighborhood in Kansas City, Mo. this week for REALTORS® Rock the Block, an annual event with Habitat for Humanity of Kansas City and the Kansas City Regional Association of REALTORS® (KCRAR) which aims to revitalize a neighborhood through home beautification projects.
REALTOR® volunteers spent the day painting, landscaping and generally lending a hand to the homeowners, many of whom have lived there for decades, including Pat Clarke, President of the Oak Park Neighborhood Association and an advocate for this project.
"Something like this, it symbolizes a great value to me. It makes me work harder to make things better for others," Clarke said. "Things like this is important to me. I think it helps us grow."
The day began with all the volunteers gathered together to hear from Clarke as well as Habitat KC CEO Lindsay Hicks and KCRAR CEO Kipp Cooper before splitting up to work on eight homes in the neighborhood.
"Just walking up and looking at the other houses and seeing the condition they're in," said REALTOR® volunteer and Heartland MLS President Kyle Niemann, "And then at the end of the day, we'll walk back down, and the neighborhood's just going to feel different. The whole neighborhood's just going to have a little bit more pep to it, a little bit more hominess to it. So it's really kind of satisfying to see how much 100 people can do in one day."
REALTORS® and Industry Partners from different companies around the KC region came together for this project. Among the REALTOR® volunteers painting homes was Sydney West, KCRAR President.
"As REALTORS®, we're about more than just buying and selling homes. We're about the neighborhoods that we live in, we're about the community," West said. "What a lot of people don't realize is all the things that REALTORS® do behind the scenes. And this is just an example. We're doing this in front of the scenes right now, but I can tell you that every day there's REALTORS® out helping their clients paint their houses… fixing problems, helping them find someone who knows how to assist them with something. We're out there negotiating. Sometimes we're just there to be an ear to listen to someone's stress, and we're their advocates. We do so much more than just write contracts."
2023 REALTORS® Rock the Block home adopters and sponsors included:
Heartland Title
Realtor.com
Continental Title Company
Academy Mortgage Corporation
Missouri American Water
Home Warranty, Inc.
Square One Real Estate Media
Chartwell Realty
Realty Executives
RE/MAX Infinity
RE/MAX State Line
ReeceNichols, Rob Ellerman Team
Worth Clark Realty